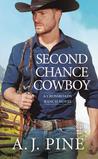 Second Chance Cowboy
by
A.J. Pine
My rating:
5 of 5 stars
Second Chance Cowboy by A.J. Pine is book One in the Crossroads Ranch Series. This is the story of Ava Ellis and Jack Everett.
Ava and Jack were once young sweethearts but they ended up breaking up. Ava had a secret that she thought might mess up Jack's plans. Jack was headed away from his home town. Jack became a lawyer and now about 10 years later he back for his father's funeral. Jack plans on it being something that won't take long but finds that the ranch is manageable but vineyard is failing and he needs help.
Which leads him back to Ava...will this be their second chance at love? How will Jack feel when he learns Ava's secrets.
View all my reviews