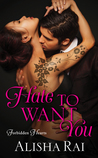 Hate to Want You
by
Alisha Rai
My rating:
5 of 5 stars
'Hate To Want You' by Alisha Rai is Book One in the "Forbidden Hearts" series. This is the story of Livvy Kane and Nicholas Chandler.
Livvy and Nicholas are what I would say are Star crossed lovers. Their families had a falling out after a terrible tragedy which effected both sides. But Livvy and Nicholas kept meeting one a year to have one night together. But now Livvy is back taking care of her mother putting her and Nicholas in the same area.
They book besides romance, does deal with family lost and depression among other things. So just beware that there is some emotional pull to this book.
Overall enjoyed their story!
"My honest review is for a special copy I voluntarily read."
https://www.amazon.com/gp/profile/A2H...
https://www.goodreads.com/user/show/1...
https://twitter.com/soapsrus68
https://www.facebook.com/RomanceBookR...
http://sissymaereads.blogspot.com/
http://booklikes.com/blog
https://romancebookreviewforyou.wordp...
https://www.tumblr.com/blog/romancebo...
View all my reviews