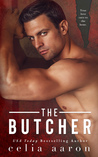 The Butcher
by
Celia Aaron
My rating:
5 of 5 stars
The Butcher by Celia Aaron is book Three in the Protector Series. This is the story of David and Angel.
I have read (and Loved!) the previous books, but feel you can make this a standalone if you wish to do so.
David and Angel meet when they were in their teens. Two young kids with bad family situations trying to make quick money to get out of their situation. They form a close bond but they are pulled away from each other due to their circumstance. David ended up going to jail but is now out working as a 'Butcher'. Angel once had strength, but her circumstance has taken much from her. Both had harsh lives that haven't gotten easier but together they feel more than ever. But can they overcome the situation they are in to find their much deserved happy ending?
I am so in love with this series and Ms. Aaron's writing. This author gives hot, suspenseful hard to put down dark romance stories that keep you turning the page until you are done. Loved it.
View all my reviews